The Reliable Choice for Kitchen & Bathroom Remodels in La Verne, San Dimas, Glendora, Rancho Cucamonga & the Surrounding Area
McLay Services, Inc. excels at creating beautiful, functional, and long-lasting bathrooms and kitchens. Having worked on thousands of home remodeling and renovation projects over the years, our highly skilled team can be counted on to get the job done right.
We pride ourselves on our integrity, professionalism, and overall value. Our customers know that nothing beats having peace of mind knowing that you can count on us for trustworthy, knowledgeable employees, reliable advice, quality workmanship, fair pricing, and exceptional customer service.
Call us today to learn more or to schedule an appointment for a free on-site consultation and estimate. We welcome bathroom and kitchen remodeling projects for homes and bathroom renovations for businesses throughout San Dimas, La Verne, Glendora, Rancho Cucamonga, Claremont, Upland, and surrounding cities.
Kitchen and bathroom remodels are some of the most lucrative investments one can make to boost a home's equity.
The Value of Kitchen & Bathroom Remodels
According to a 2020 HGTV article, a minor bathroom remodel had an average return of 102% at resale, and a minor kitchen remodel had an average return of 98.5% at resale, ranking them first and third in the Top 15 Home Updates That Pay Off. Major bathroom and kitchen remodels also took the sixth and seventh slots, with average returns at resale of 93.2% and 91%, respectively.
What these numbers show is that bathrooms and kitchens are some of the most valued rooms in the home. They are vital to any home's comfort and play a significant role in how functional and welcoming it feels. It's why they are typically among the first spaces to be upgraded in a home. It's a way for a homeowner to start customizing their home to better suit their lifestyle and design preferences while adding to their home equity, bit by bit.
Remodeling Your Home's Bathroom or Kitchen with McLay Services, Inc.
McLay Services, Inc. is a trusted local HVAC and plumbing contractor with more than 44 years of experience and tens of thousands of satisfied customers. We're known for quality work, competitive rates, and honest business practices. You'll be in good hands, from the initial consultation through to the final finishing touches and clean-up.
Whether you are flipping a house or crafting your forever home, you can rely on the quality work from McLay Services, Inc. to get your kitchen or bathroom project done on time and within budget.
Contact our offices today to schedule a visit with our team to receive a fair quote for the work you need. Give us a call at (909) 392-2202.
---
Commercial Bathroom Remodels
Commercial bathroom remodeling projects should always be handled by a professional. Whether you are looking to modernize your bathroom to coordinate with the high-end look of your business or need to update your bathroom to be code-compliant, our team has the knowledge and experience to tackle your project. We can also provide guidance throughout the planning phase that can help save you money in the long run. Call us today to learn more. We provide free on-site consultations and estimates to commercial businesses interested in a bathroom remodel.
Recent Projects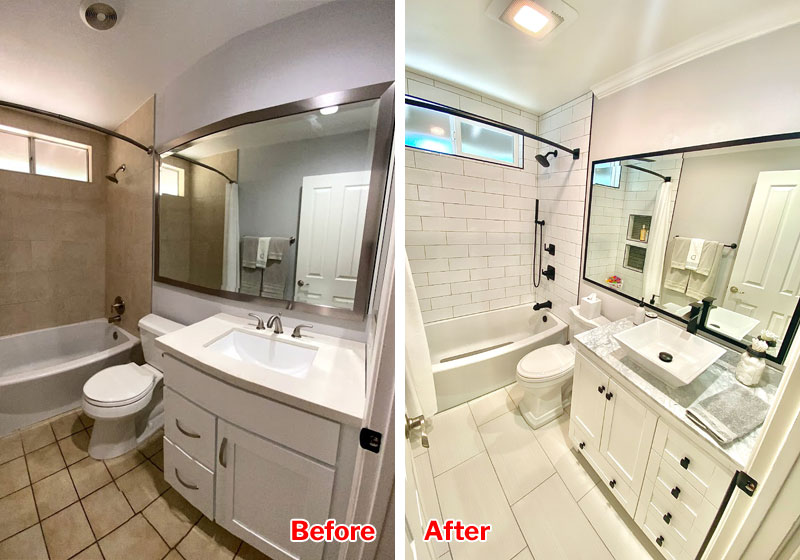 CSLB Licensed Contractor

Family Owned & Operated
44 Years of Experience

Free On-Site Consultations & Estimates

Workmanship Guaranteed

400+ Five-Star Reviews
We Pride Ourselves in Our Honesty, Integrity, and Professionalism
Customer Reviews

McLay Services, Inc.

McLay Services, Inc.

McLay Services, Inc.