Water Heater Repair, Installation & Maintenance Services
Tank and Tankless Water Heaters
It's important to invest in a quality water heater because it plays a crucial role in your home on a daily basis. From sanitizing your laundry and dishes to providing a hot shower after a hard workout, you want to know that you'll have hot water when you need it. In addition to contributing to your home's overall comfort and health, your water heater can also have a major impact on your monthly utility bills.
Full-Service Water Heater Professionals
As an accomplished, certified, and award-winning plumbing, heating, and air conditioning company, McLay Services is exceptionally well qualified to meet any water heater need. We provide comprehensive installation, replacement, repair, and maintenance services for both tank and tankless water heaters. We can also handle repiping if the plumbing system is affecting the performance of your water heater.
Call locally and family-owned McLay Services, Inc. today. With more than 44 years of experience, thousands of satisfied clients, and a reputation for honest business practices and excellent service, you can rest assured that we'll get your job done right and always have your best interests in mind. We're available Monday through Saturday and provide our comprehensive water heater services throughout La Verne, San Dimas, Chino, Glendora, Claremont, Rancho Cucamonga, Upland, Diamond Bar, and surrounding areas.
Water Heater Installation & Replacement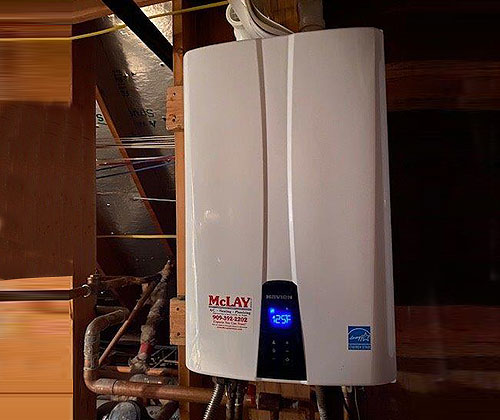 If it's time to install a new water heater, work with one of our friendly and knowledgeable staff members to find out what system will work best for your home. One of our plumbing technicians can come out to your property to examine your current plumbing system and home layout to help you choose the best new water heater for your needs.
As a certified factory authorized dealer for Navien, Noritz, and Bradford White, McLay Services, Inc. is held to a higher standard than the average local contractor. By working with McLay, not only will you feel good knowing you're supporting a trusted local, family-owned business, but you'll also have the added reassurance of knowing you're getting a quality product installed by a qualified professional.
Tankless Water Heater Vs. Tank Water Heater
Debating which water heater is best for your home? There are a few key factors to take into consideration:
How much water do you use each day?
Does your home have a gas line?
What is your current budget for a water heater?
A traditional water heater will hold a typical day's worth of water (30-50 gallons). It's significantly cheaper upfront than a tankless unit. Natural gas tank water heaters are going to use around half the energy of an electric tank unit.
Tankless water heater systems are, as their name states, without a tank and take up less space. They also use a lot less energy than a conventional tank system as they only need to heat 2-3 gallons of water each time it's in use rather than 30+ gallons of water.
Tankless systems have a more efficient design and concept, which also shows in their lifespan. So while you may be paying significantly more upfront for a tankless system, you will likely save more in the long run through monthly energy savings. You may even get an extra 5-10 years of runtime over a traditional tank system.
Ultimately, you know your home and budget better than we do. Our professionals are there just to help you understand your options and have the information you need to make the best decision for your needs.
Whether you decide to purchase a new tank or tankless water heater, it is vital that the system is set up properly to get the full benefit of this home investment.
A quality system will help give you the convenience of quick access to hot water; however, a poorly run plumbing system can create inconsistency and delays in your access to hot water. This has nothing to do with your new water heater and everything to do with how it's able to send water to your different appliances, sinks, and faucets throughout your home. If necessary, McLay Services can repipe your home to fix any odd piping jobs from previous plumbers.
Call us today to learn more! We are happy to install any system that you feel will satisfy your home's water heating needs. We can also help keep your water heater running at its best by providing routine maintenance services and making any necessary repairs that it may need.
Water Heater Preventative Maintenance
Not only can you rely on McLay Services, Inc. for a dependable water heater product and expert installation, but we can also provide regularly scheduled maintenance to prolong its life span and keep it running safely and efficiently.
The best way to ensure that you don't run into any unpleasant surprises with your water heater is to have it inspected and serviced by a professional annually. Protect your investment and give yourself the peace of mind of a well-functioning water heater with routine water heater maintenance visits from McLay Services. Our technicians will go the extra mile when inspecting your unit to prevent major breakdowns and costly repairs. Give us a call at (909) 392-2202 today.
Water Heater Repair
There's nothing worse than realizing there's no hot water in your house. When your water heater requires service, call McLay Services. We'll dispatch one of our highly trained and experienced plumbers to diagnose the problem. They are qualified to work on most makes and models of tank and tankless water heaters. If a water heater can't be repaired and you need to replace the unit, they will do their best to provide you with the guidance you need to make the best decision for your household and budget.
Call McLay Services, Inc. at (909) 392-2202 to schedule service Monday through Saturday anywhere in La Verne, San Dimas, Glendora, Rancho Cucamonga, Claremont, Upland, Chino, Diamond Bar, Walnut, and surrounding areas.
Recent Projects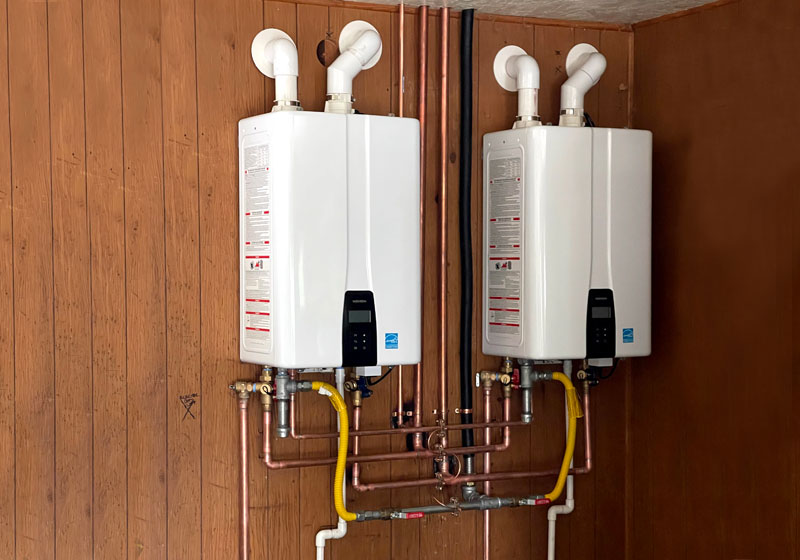 We Pride Ourselves in Our Honesty, Integrity, and Professionalism
Customer Reviews

McLay Services, Inc.

McLay Services, Inc.

McLay Services, Inc.