The Indoor Air Quality Experts Serving La Verne, San Dimas, Glendora, Rancho Cucamonga & Surrounding Areas
Homeowners may not realize it, but the air inside the home can be 2-5 times more polluted than the air outside. McLay Services, Inc. provides indoor air quality products and services to improve your home's air quality and create a more comfortable home environment for your whole family.
Our indoor air quality experts provide the following services:
Free In-Home Consultation – Our HVAC specialists will work one-on-one with you to find the IAQ products that fit your home comfort needs.
Air Filtration Products – We provide powerful air filtration products that remove contaminants such as pollen, mold, and pet dander that can aggravate allergies.
Humidifiers – These IAQ devices properly control humidity to enhance personal comfort, protect furniture and wood floors, and reduce static electricity that damages electronics.
Fresh Air Ventilators – We can install fresh air ventilators that remove cooking, pet, and chemical odors by directing them to the outdoors.
Ultra Violet Lights – UV lights kill airborne microbial growth of mold, bacteria, and viruses throughout your home, ductwork, and cooling coils.
Carbon Monoxide Detectors – We install and test these critical devices that protect your family from carbon monoxide, the silent killer.
Zoning and Programmable Thermostats – These HVAC upgrades help keep each area of your home at the proper comfort level to meet your lifestyle.
Carrier® Air Purifiers
Carrier leads the industry in state-of-the-art air purifier technology, providing the filtration efficiency equivalent to MERV 15. Carrier's germicidal technology is also powerful enough to trap and eliminate a range of airborne pathogens, including human influenza, cold viruses, measles, and tuberculosis bacteria. Carrier uses the same air purification technology that works to keep hospitals and government facilities secure.
To learn more about how Carrier indoor air quality products work to keep the air inside your home safe and healthy, contact us today.
Our indoor air quality products can enhance your quality of life!
Call Today: (909) 392-2202
Infinity® Air Purifier
Model: DGAPA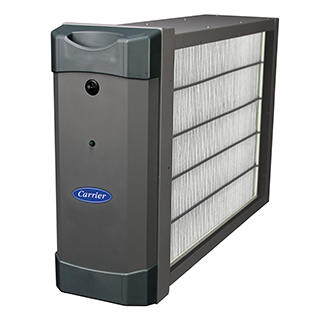 Whole home air purification system
Long-life MERV 15 filter
Patented Captures & Kills™ technology
Captures up to 95% of particles*
Kills or inactivates up to 99% of germs and viruses†
Proven effective against 3 common pathogens:
Human influenza
Common cold surrogate
Streptococcus pyogenes
Can be placed in line with nearly any ductwork system
Easy to replace, long-lasting filters
10-year parts limited warranty2
We Pride Ourselves in Our Honesty, Integrity, and Professionalism
Customer Reviews

McLay Services, Inc.

McLay Services, Inc.

McLay Services, Inc.