HERO Financing
Offering Homeowners an Easier Way to Finance
Easy Payments – Repay HERO financing through property tax bill. 5, 10, 15 year terms available
Tax Deductible Interest. Consult your tax professional.
No Credit Score Requirement. Financing is not based on your credit score.
$0 Down Payment. No money down means you can make improvements now.
10% Equity Minimum. Mortgage-related debt must not exceed 90% of property value.
Finance up to 10 % of your Property Value. Relatively low interest rate financing.
If you sell your property, the new owner may assume payments. Transferrable upon sale (in most cases).
Save Money on Your Energy Bills. Energy Efficient products save you money!
Get Approved in Minutes. Call the HERO Program or go online to apply today.
HERO Program provisions are subject to change without notice.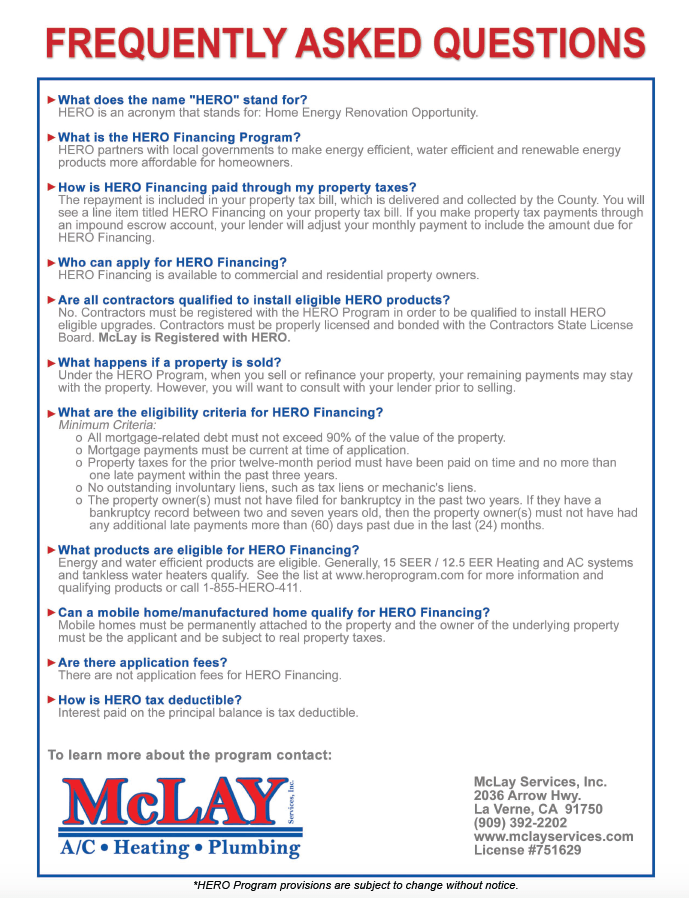 We Pride Ourselves in Our Honesty, Integrity, and Professionalism
Customer Reviews

McLay Services, Inc.

McLay Services, Inc.

McLay Services, Inc.
CUSTOMER REVIEWS
Our AC unit went out right when it was getting hot. I looked on yelp for nearest local company, I called and spoke to a very sweet young lady and the next day they sent me Todd… Todd fixed my unit in 20, I come from the service industry and Todd was thorough and explained everything. He was very professional. I would recommend them


Steve O., Pomona, CA
Via

Best customer service! Our whole family uses this company and we won't trust anyone else. I'm currently pregnant and of course the air goes out on one of the hottest days. They were able to send someone in a timely manner and fixed the problem in no time. This preggosaures rex is very grateful!


Bri B., Newport Beach, CA
Via

Reading the review by Donna H. submitted yesterday, I had the same great experience with Mike today. He quickly diagnosed the problem with the AC not cooling properly. He promptly got the repair part, installed it, and fully serviced the unit, all at a cost that, I think, was quite reasonable. He is one of McLay's newer technicians. Archie made a good hire with this young man.


John S., Claremont, CA
Via