It's safe to say that every homeowner wants to create a safe, healthy, and comfortable home environment for their family. That's why it's not surprising that indoor air quality is a big concern for many Southern California homeowners. No matter how hard you work to keep your home clean and free of pollutants, dust and other contaminants will start to accumulate in your air ducts over time. Below, we'll go into a bit more detail about why you need air duct cleaning, and how McLay can help ensure that your air ducts are clean.
La Verne Air Duct Cleaning: What You Need to Know
It is probably no surprise that over time, dust and other particles build up in your air ducts. This not only starts to impact the air that you breathe, but it can also cause your HVAC system to work harder, driving up your monthly energy costs. It is important to keep your ducts clean to prevent a buildup of these contaminants that can start to impact your family's health, especially if you or someone in your family has asthma, allergies, or a weakened immune system.
Below is a quick guide to what you need to know about cleaning your air ducts and how McLay provides quality La Verne air duct cleaning services: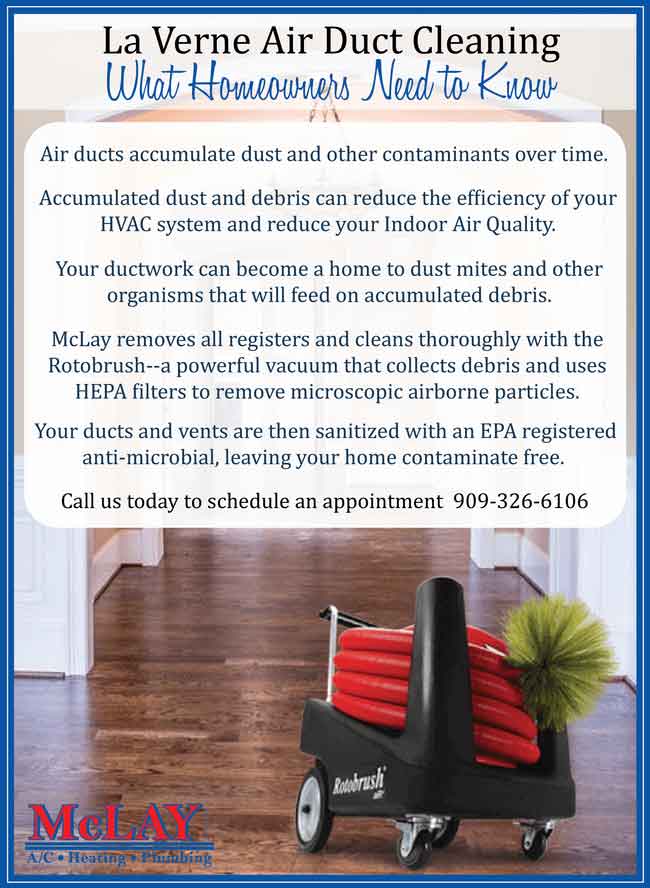 Southern California Air Duct Cleaning Services
McLay Services loves serving the La Verne community. In addition to Air Conditioning and Heating repair, installation, and maintenance, we also provide Southern California air duct cleaning services for those living in La Verne and beyond. Our indoor air quality specialists will ensure that your home is comfortable and the air inside your home is healthy to breathe year-round.
Since every home is different, it may be difficult for you to determine whether or not your air ducts need to be cleaned, even after taking a quick peek into your ducts. Our team can inspect your air ducts and let you know whether or not this service might be right for you. For more information about our services or to schedule an appointment, contact us today.