In Southern California your HVAC system is responsible for around 50% of your energy bill. That means that homeowners should always be on the lookout for new ways to use their heating and cooling system for efficiently.
Purchasing a more energy-efficient HVAC system isn't the only way to save money on your heating and cooling bills. You can also use your thermostat to make sure that the temperature in your home allows for optimal efficiency. Read on to find out more about the ideal thermostat temperature can help you save money on energy costs throughout the year.
Save Energy with The Right Setting
So, what's the ideal thermostat setting for ultimate energy savings? Truth be told, it's not so cut and dry. Deciding the temperature setting for your thermostat depends on many factors including season, humidity levels, and the amount of time you spend at home.
Below we outline the most cost effective temperature settings for your home that will save you money on energy costs, but won't compromise your comfort.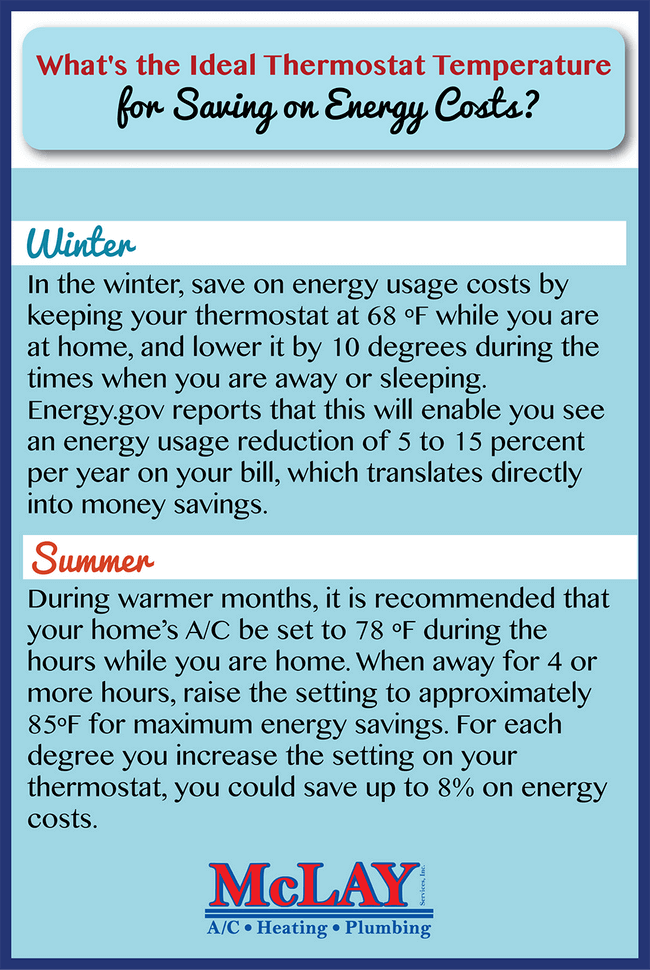 Need a New HVAC system? Call McLay
Are you interested in saving even more on your monthly energy bills? If your HVAC system is over 10-years old or just doesn't seem to be as running efficiently as it used to, it may be time to buy new heating and cooling equipment. If you're in the market for a new HVAC system, then be sure to check out our special offers. We offer financing, rebates, and coupons to La Verne area residents.